Support measures
for start-ups
Due to the economic consequences of the coronavirus, the Federal Council is making liquidity assistance available to start-ups in Switzerland to supplement the Covid 19 loans.
On 22 April 2020, the Federal Council decided to use the pre-existing guarantee system for SMEs to help support start-ups. In collaboration with the cantons, the federal government intends to use the guarantee system – in addition to its COVID-19 credits – to offer promising start-ups immediate protection against insolvency as a result of the coronavirus. Guarantee applications can be submitted until 31 August 2020.
Further information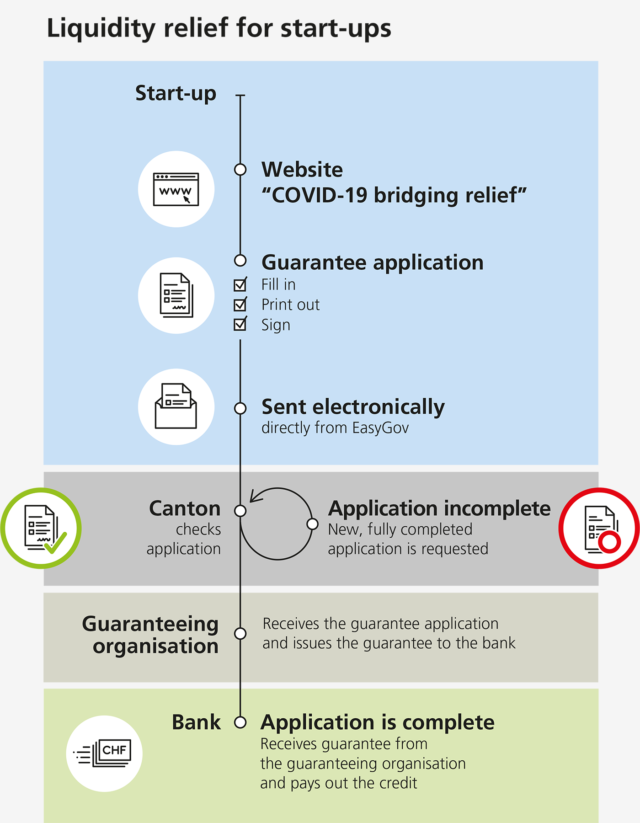 Guarantees shall be assessed by a body designated by the canton. The guarantee organisations can then conclude guarantees for bank loans with the banks. The guarantees are secured at 65% by the Confederation and 35% by the canton. Please note that only one application for a guarantee per start-up can be submitted to a bank. The prerequisite is that the canton in which the company's head office is located participates. Loans are not available from PostFinance for start-up guarantees.
How to submit your guarantee application:
To start your credit application, click on the link below and fill in all the required fields.
Sign the guarantee application and upload it to EasyGov. The application will be sent electronically, directly from EasyGov. The canton will review the agreement. If it is complete, the canton will forward the agreement to the guaranteeing organisation. The guaranteeing organisation will then issue the guarantee for the bank.
The bank receives the guarantee from the guaranteeing organisation and pays the money out to the start-up.
Note: The start-up company applies for a guarantee. The loan amount is usually less than the requested guarantee amount.
Here you will find a list of the cantons offering guarantee applications.